SCA Performance Trucks in Norwalk, IA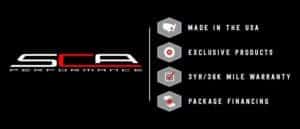 The Silverado 1500 Is the Best Performing Model In 2019
Since 1979, SCA Performance has been recognized as the premier Special Vehicles Manufacturer of Ford Trucks. On this 40-year journey of pursuing our Passion and perfecting our Craft, we've built over 120,000 custom vehicles from our 150,000 square foot, state-of-the-art manufacturing facility headquartered in Trussville, AL.
The engineers of Chevy have made this model perform better for purposes of pure strength and long-lasting durability. With OEM mathematical strategies, the designers were able to construct every single inch of this truck with exactness. This vehicle was made to help drivers be more productive and less reliant.
Get More Things Done
Think of it this way, if you are out shopping with your family and you decide to buy furniture or large items, you would never be able to fit these items in your car; let alone your small truck cab. With the Silverado 1500 SCA performance model, the cab is larger than most other trucks.
Once you utilize this model, you will never have to wait weeks to receive your items to be delivered, in fact, since this truck is reliable with a big cab, expect to have instant gratification each time you shop and step into a new and innovative large-sized truck.
There are several reasons why truck drivers would benefit from the SCA performance model:
• The 2019 truck can tow anywhere from 6,700 to 9,900 pounds!
• Space is this trucks middle name
• SCA performance logos fill the design with exclusivity
• Custom-made with lifts and suspension that help keep your trucks interior and exterior safe
• Off-road and on-road compatibility to provide a smooth drive everywhere you go
• Meets all US Federal Motor Vehicle safety standards; safety is first and vital
• Top performance
• High clearance bumpers
• Stainless steel hardware is used, this way, rust is never an issue
• A 3-year 36,000-mile warranty is included with the Silverado 1500 SCA performance model
• An SCA calibration system is included
Every component is strategized with CAD model rendering and OEM mathematical analysis and data, along with proper testing to ensure customer safety is number one.
The custom-made tires will be able to handle sand, rock, snow—all of the environments that the earth hands out. With a unique 6-inch lift and suspension, nothing will get in your way; you'll be able to get over almost any obstruction in your path.
Performance, power, and build are usually the first descriptions that come to mind when mentioning the newly remodeled SCA performing 2019 Silverado 1500.
Although the Silverado 1500 was not built for speed, it was made for tuff terrain that your every day economical vehicle is not meant to explore. Choosing a spacious vehicle is sure to honor you and your passenger's comfort. Be comfortable inside while you maneuver through any type of area you want.
For fast and educated knowledge about the SCA performance Silverado 1500, Gregg Young Chevrolet Norwalk will be able to answer your questions in full. The experts in Norwalk will be able to help you situate special financing, this way, the sooner you get into your new SCA performance truck, the quicker you'll become more productive.