Where to Go Ice Skating in Des Moines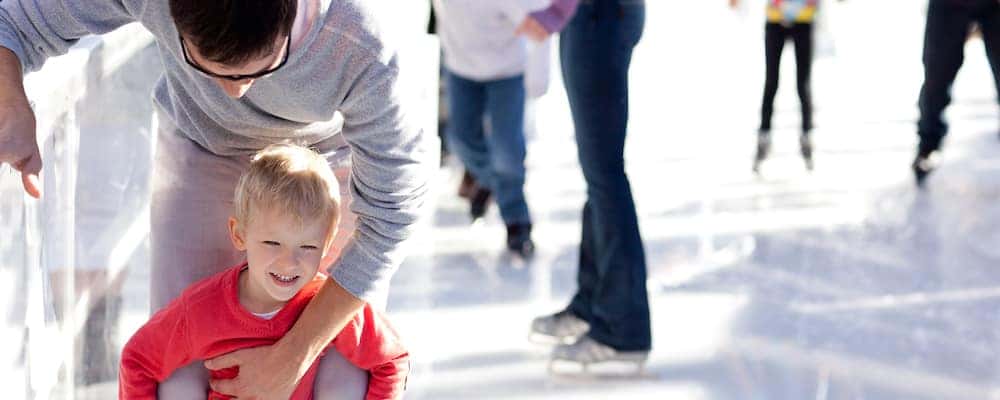 Winter is upon us and, if you're not the type to sulk at home and prefer to be out enjoying winter activities in Des Moines, there are plenty of places to lace up your skates and hit the ice. Here, we'll let you in on a few of our favorite ice skating venues in Des Moines and, when you're all tired out, venture out and explore the Pleasant Hill area or stop by one of our favorite West Des Moines restaurants and warm up with something tasty.
Brenton Skating Plaza
Located on the Principal Riverwalk in downtown Des Moines, the Brenton Skating Plaza is just a short drive from Urbandale and offers lessons, skate rentals, broomball, and proposals on ice!
Where: 520 Robert D. Ray Drive, Des Moines, IA
Des Moines Public Parks
The city's Parks and Recreation Department offers free skating at three parks, but you must wait until the pond ice measures at least 4 inches deep. Just look for the green flag and grab your skates for a memorable time.
Where: Witmer Park, 1610 34th Street
Greenwood Park, 4500 Grand Avenue
MacRae Park, 1021 Davis Avenue
Raccoon River Park
Raccoon River opens in early December and, while there is no skate rental, if you have your own, you'll have full access to this 320 square-foot rink free of charge for the season.
Where: 2500 Grand Avenue, West Des Moines
Centennial Park
Centennial Park offers another free skating option for Waukee residents and, thanks to the split times (hockey until noon, skating noon-dusk) there is less competition for ice time and more fun to be had for families.
Where: 1255 Warrior Lane, Waukee
Sunrise Park, Ankeny
Sunrise Park's new rink will open in late December or early January and, like many of the locations on this list, will be available free of charge to residents. Just brink your skates!
Where: 506 SE Peterson Dr., Ankeny
More from Gregg Young Chevrolet Of Norwalk, Inc.
We're committed to providing Waukee area drivers the tools they need to make the most out of every mile. That includes delivering information about places to spend your downtime, the best East Village Des Moines restaurants, information about money-saving offers, and access to the best body shop in town, just in case the ice gets the better of you. To learn more or to see how easy, and affordable, a more reliable Des Moines area drive could be, contact Gregg Young Chevrolet Norwalk today.
Latest Local tips
Winter is upon us and, if you're not the type to sulk at home and prefer to be out enjoying winter activities in Des Moines, there are plenty of places to lace up your skates and hit the ice. Here, we'll let you in on a few of our favorite ice skating venues in Des…

While there is plenty to see and do in Des Moines, aside from tricking out your Chevy truck in our with paint work, one of our favorites is trying new restaurants. Recently, we've been checking out what West Des Moines has to offer and, we have to tell you, it's well worth the drive. More…

Do you like to be scared? Then we have a treat for you! No, it's not another amazing offer on a new Chevrolet Silverado or an unbeatable price on paint and bodywork — though we have those too. It's a list of our favorite haunted houses in Des Moines. Whether you're searching for a spooky family scare,…